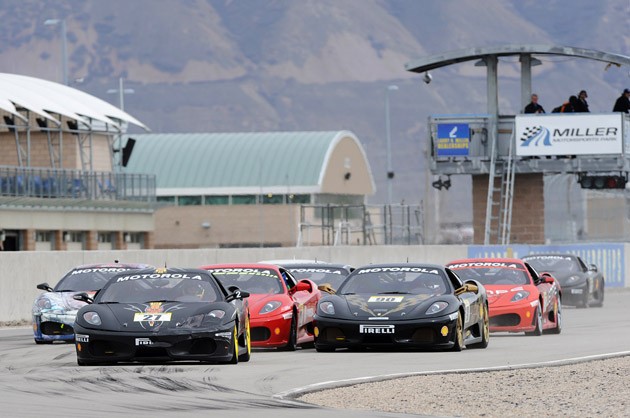 2010 Ferrari F430 Challenge at Miller Motorsports Park
The Ferrari F430 Challenge isn't on our normal scope of motorsports coverage, but when we heard that the series, along with the Corse Clienti cars, were going to be at Miller Motorsports Park we immediately started checking on flights. This year is the first time the series has come to the state-of-the-art track outside Salt Lake City, and hopefully it won't be the last.
If you aren't familiar with the F430 Challenge, it's a spec racing series put on by Ferrari specifically for owners. Professional drivers, instructors or anyone involved in the sale of Ferraris or parts can't drive in the series. Since each of the cars is exactly the same – a race-prepped Ferrari F430 coupe with 490 horsepower – the playing field is level. Think the races are a bunch of rich guys doing parade laps around the track? Think again. The drivers are extremely competitive and it's not uncommon to see the cars bumping fenders and jostling for position. That was the case at Miller Motorsports Park, where there were several off-track excursions into the Tooele sand and various bits of body panels, splitters and diffusers left on the tarmac.
It makes for good entertainment, and we highly recommend attending any of the four remaining F430 Challenge races in North America this year – Infineon Raceway, Montreal, New Jersey Motorsports Park and Watkins Glen. If you can't make it, then you'll just have to settle for our high-res gallery below.