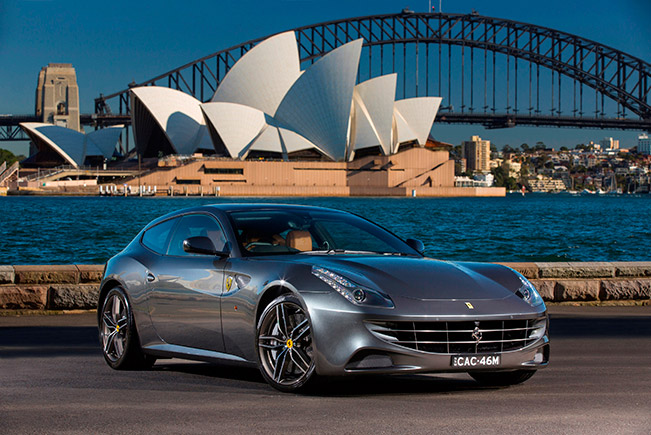 Some have run it for four months, other for four days, but the verdict is always the same; the FF, with its four seats and four wheel drive has garnered plaudits from a very wide range of magazines from around the world as well in the new media.
On the English website, Pistonheads.com, Chris Harris made the most of the FF's abilities, using it as a family runabout, racking up over 6000 kilometres. During that time he appreciated its performance and the typical delights of a Ferrari, but without having to forego carrying all sorts of luggage, including " a muddy mountain bike, the shopping and even the screaming kids." "When you have an FF parked on your drive at home, you tend to use it as much as possible because it turns every trip into something special," wrote the journalist, known for his on-the-limit driving style.
Across the Channel, a classy trip from Paris to Epernay was the journey tackled by France's Automobile Magazine. It highlighted the long distance abilities of the car, as it dealt with slippery roads in the rain thanks to the 4WD system, while also having the ability to cruise calmly, carrying its passengers in maximum comfort.
Over in Wisconsin, the journalist and race fan, Harvey Briggs tested the FF for Pursuitist.com, which is aimed at the luxury market. He went to the Road America circuit and on the long straights of the famous track, the V12 could be given its head, with its 683 Nm of torque at 6000 rpm and its 660 cv, which comes at an even higher 8000 rpm. Impressed with the performance, Briggs then took the car onto the roads, taking along his wife, who particularly liked the interior, especially the softness and smell of the leather, along with the general level of comfort. Over the four day test the car proved ideal in town where "it is more manageable than you would imagine, given its size," but it really shone on more flowing roads where its dynamic abilities could be fully exploited.
Finally, in the Beijing Times, a few weeks ago, an in-depth test of the car was published in which the journalist was extremely impressed by the stability provided by the 4WD system without it in any way affecting driveability, as well as praising the ease of operation and the high quality of the handmade finish. The journalist concluded with these words: "It brings together the excitement of driving with the pleasure that only comes on a relaxed journey."
Source: Ferrari