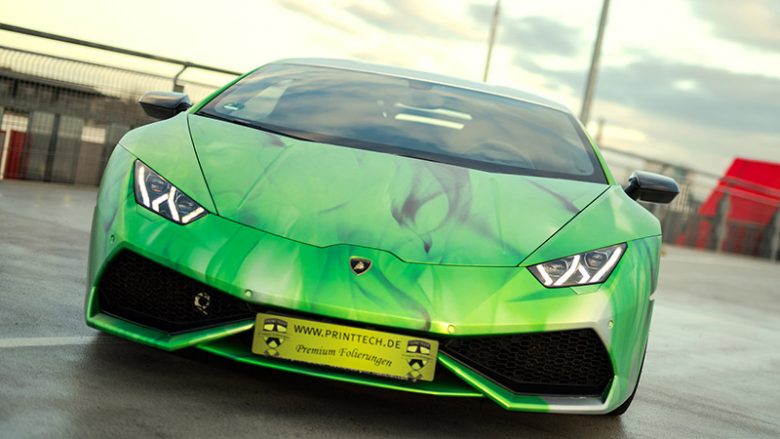 That one who trusts his vehicle to the tuning and wrapping company PRINT TECH at Munich, will become witness of a metamorphosis, because there, the car body experiences a kind of revolution. The crew around CEO Giancarlo "Gianni" DE PADOVA performs really extraordinary and "magic" complete foiling and brilliant wrapping upon the outer skin of four-wheeled bolides with lively colors, in actual trends and recent techniques. Being branch's pioneers, the Bavarians, now with Italian roots, warrant for fascination in their since many years already.
Wrapping "recidivists" know all the advantages that offer full or partial wraps. Thanks to very tight contacts to different foil manufacturers PRINT TECH can meanwhile fulfill also the most fancy own designs, even if they demand keen decisions. Who wants to attract the most possible attention needs first of all a fetching design! As this Lamborghini Huracбn LP 610-4 lets easily to realize: the "fighting bull" presents itself in tricolor chrome & flames design with brushed surface, without any peer! The excellent works of a graphic designer, printed on a latex printer, present the attended result in the proper light. Consequently, the huge efforts (in order to achieve the wrapping, nearly the whole car had to be demounted!) show a unique result. The consisting of three foils complete wrap is 10.000 euro of worth!
By the way, the PRINT TECH Company is also a dealing center for Akrapovic exhaust systems. Thus, the Lambo with its really impressing wrap has got a premium titanium alloy exhaust system, lifting the car up to a new level thanks to significantly reduced weight and optimized handling. The bigger main tubes and the especially designed x-area in the muffler warrant for crossflow optimizing power and torque. The four carbon fiber end pipes are topping the exquisite installation with infernal sound. The result: 19.4 additional HP and 20.5 kgs less of weight compared to the serial installation – as well known, the sound makes the music!
By the by – PRINT TECH offers the most "extravagant color desires in a mat variant, too. That is a fact appreciated not only by steady costumers from all of Europe. For a premium wrap the no way to Munich is too far!
Source: PRINT TECH