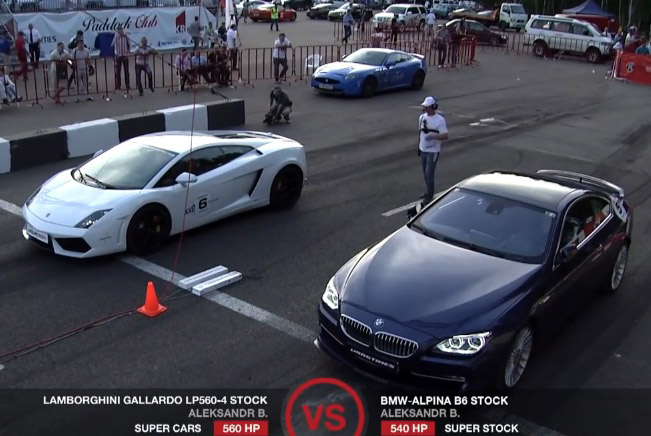 Lamborghini Gallardo LP560-4 is pretty fast car, but when it comes to drag racing and especially on a 1 mile race, it can struggle a bit.
The Gallardo LP560-4 is powered by a 5.2 liter naturally aspirated V10 with 560HP (412 kW) at 8,000RPM and 540Nm (398 lb-ft) at 6,500RPM. 0-100 km/h in 4.0 seconds and a top speed of 324 km/h (201 mph).
In the first start, the Lamborghini meets a Porsche 911 Turbo Mk.2 with 500HP (stock). As you may suggest, the Gallardo lost that race. It stopped the clock at 30.712 seconds with 269 km/h at 1 mile, while the 911 needed 29.341 seconds with a terminal speed of 281 km/h.
In the second start, the Gallardo obliterates BMW Alpina B6 with 540HP. The B6 needed 31.500 seconds with 272 km/h, while the Gallardo finished in 30.095 seconds with 275 km/h.
The third start was single, but the Gallardo LP560-4 managed to set personal absolute record on 1 mile – 29.974 seconds with 268.85 km/h.
Enjoy!