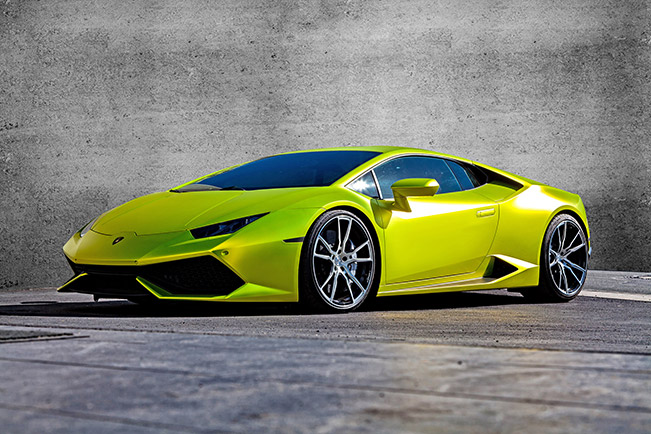 The word "Huracán" that means "Hurricane" in English, perfectly describes the character of the new entry-level Lamborghini. In full battle cry, the sound of its 5.2-liter V10 dispensing 610 hp to all four wheels through the 7-speed dual-clutch transmission certainly mimics the fury of a fully-fledged hurricane.
Now the storm is whipped up even more by xXx Performance from Bochum, Germany, with an engine upgrade that consist of a new air intake, a sound flap control stainless steel sport exhaust to reduce backpressure, and an ECU remap. Thus massaged, the screaming V10's output rises to 690 hp, accompanied by 650 Nm of torque.
When the xXx Performance Huracán is moving rapidly, all you will catch is a green flash as it blows by. But when it is at rest, you have the chance to appreciate the Chrome Lime Matt foil body wrap perfectly applied to the cars crisp lines.
Complementing this bright body colour is a bespoke set of Oxforged 4 one-piece forged alloy wheels made to measure for xXx Performance by OXIGIN. Sized 9×20 and 12.5×21 inch, and wrapped in 245/30R20 and 325/25R21 low profile tyres, these low-weight, high-strength wheels feature a specially milled front polish finish that adds to their exclusive appearance.
Last by not least another xXx Performance exclusive is a set of H&R lowering springs that drops the ride height by 25 mm.
Source: xXx Performance