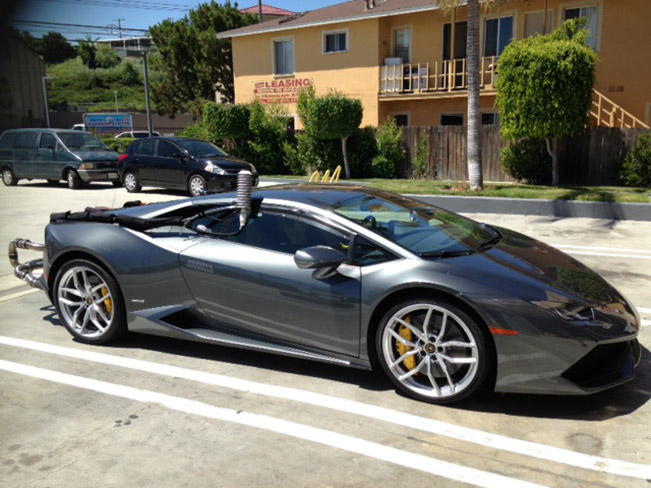 Owning a supercar can be an expensive pastime, but big fuel bills may be less of a concern following economy tests on Lamborghini's latest model by Emissions Analytics.
Real-world fuel economy testing of the Lamborghini Huracán LP 610-4 for Motor Trend in the US has found that the 5.2-litre, 620bhp thoroughbred exceeded its official fuel economy figure by 11 per cent.
Delivering the equivalent of 21.2mpg (17.7mpg using the smaller US gallon) the car comfortably beat its official fuel economy figure of 19.2mpg (16mpg in the US).
Evaluated as part of Emissions Analytics' long term project to measure a wide range of vehicles on US roads with leading website and magazine Motor Trend, the Italian supercar was able to beat far less exotic models in the fuel economy shoot out.
The Range Rover 3 litre Supercharged (340bhp), Chevrolet Camaro 6.2 litre ZL1 (580bhp), Mercedes M63 5.5 litre AMG (550bhp) and Cadillac Escalade 6.2 Platinum (420bhp) all failed to beat the Huracán's real-world fuel economy. Of the 263 cars and pick-ups tested by Emissions Analytics to date for Motor Trend, 33 have proved less economical than the Lamborghini.  Weight is an important factor, with the svelte Lamborghini at 1,600kg comparing favourably, for example, to the 2,400kg Range Rover.
"Big-displacement, high-performance cars are designed to be light and efficient, as that relates directly to outright performance," explains Nick Molden, CEO of Emissions Analytics. "These cars are designed to extract the most from every gallon of fuel and it's not too surprising that they're capable of delivering reasonably good fuel economy when driven in certain conditions."
The Emissions Analytics evaluation process is proven to give robust and repeatable real-world results. A Portable Emissions Measurement Systems (PEMS) is employed to measure the gases from the tailpipe as well as recording how and where the vehicle is being driven. PEMS is the same technology found in a traditional testing laboratory, but packaged for on-board installation.
Capable of testing everything from city cars through to the latest supercars, as well as buses, trucks and even off-highway equipment, Emissions Analytics is the leading provider of real-world emissions data. It has tested over 900 cars worldwide and works with leading publications as well as vehicle manufacturers, regional governance, academic institutions, and the petrochemical industry.
With rapid installation, no modification to the vehicle, and true in-use performance data, a PEMS is the perfect alternative to laboratory-based testing. Emissions Analytics' database of vehicle data can be modelled to different requirements, helping clients select the best vehicles for specific applications, model emissions based on vehicle type and usage, and benchmark vehicles against rivals or an industry average.
Source: Lamborghini