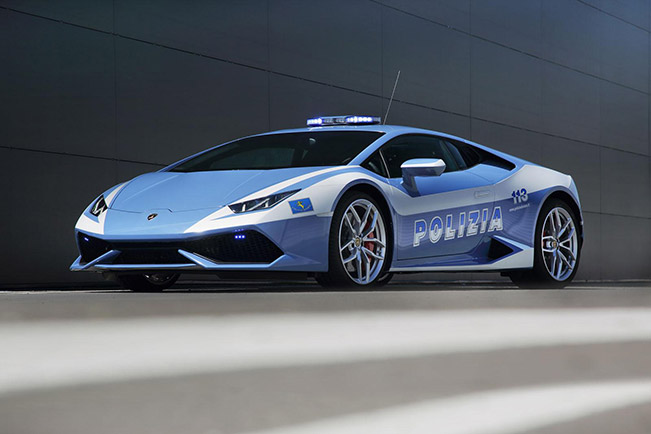 The Italian State Police has received a brand new Lamborghini Huracan LP 610-4 Polizia. The exterior features the traditional blue and white livery as well as LED light bar.
Highlights include a "Proof Video Data System", which uses a camera and computer to record any suspicious activity. Unfortunately for felons, the car has a removable display that can be used to show misdoing to them instantly. The special Huracan also has a gun holster, a police radio and a "Paletta" that advises motorists to pull over. There is also a defibrillator and a refrigeration system.
2014 Lamborghini Huracan LP610-4 is powered by a 5.2 liter V10 – 610HP (448 kW) and 560Nm (413 lb-ft) of torque. 0-100 km/h in 3.2 seconds, 0-200 km/h in 9.9 seconds and a top speed of 325 km/h (202 mph). The model also has an engine start/stop system which enables the car to average 12.5 L/100km (18.8 mpg US / 22.5 mpg UK) with CO2 emissions of 290 g/km. The engine is connected to a 7-speed dual clutch transmission and an all-wheel drive system.