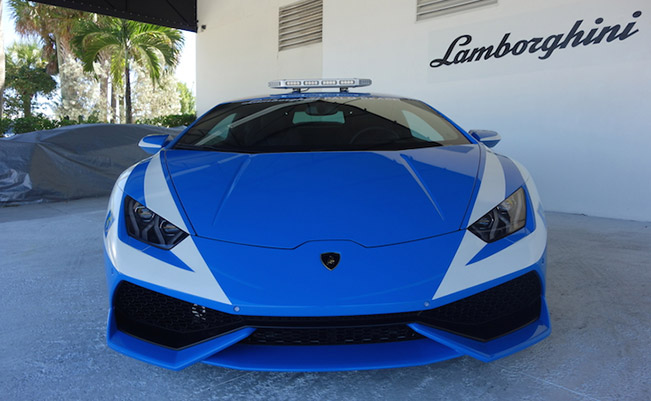 The new Lamborghini Huracan is the hot-selling, hot-looking replacement to the outgoing Gallardo. Its V10 puts out over 600 horsepower. The whole car was designed from the ground up. And one Lamborghini dealership decided it needed to don a badge and wear a uniform.
That's right, this is the one-of-a-kind (at least in the U.S., anyways) Lamborghini Huracan police car. Or more accurately, Polizia car. It's a near identical replica to the Italian version done up by Lamborghini HQ in Italy, which you may have already seen. But this one gets to terrorize protect and serve the streets of South Florida instead.
Lamborghini Palm Beach was kind enough to invite us over and gave me some time to play with it. And boy is it cool. The whole exterior was covered in a custom 3M wrap bearing the "Polizia" moniker and police lights were added on top to add to the continued personality.
Lift up the boot and there's the monster of an engine staring you in the face. 610-horsepower comes from the 5.2-liter V10, and the whole thing actually sounds a little meaner thanks to some sportier factory exhaust.
As for the interior, Lambo Palm Beach didn't bother fussing with it considering it is just a show piece (for now). But it's still as pretty as ever with the stylized central ignition button and knobs and switches aplenty.
Source: www.boldride.com