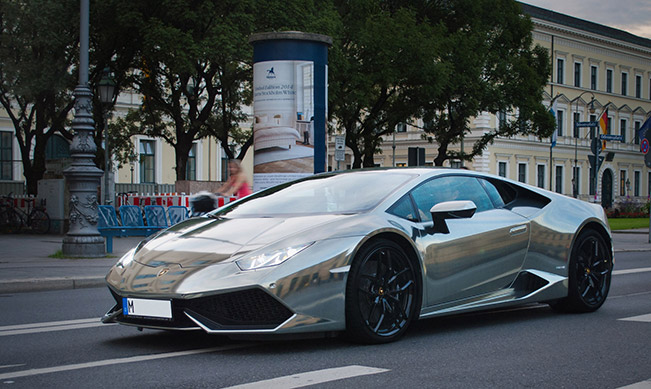 If to speak about complete car wrapping and/or brilliant car design, there is no way around the Munich PRINT TECH company. Since many years, the Bavarian protagonists surrounding the PRINT TECH company owner Giancarlo DE PADOVA become talking point again and again, if the matter is to wrap exceptional cars with furious techniques into a new outfit, thus acting as trend setter. The fascination of complete car wrapping with lively colors is practiced again and again each day.
 
Passionate decisions must not be unreasonable, not at all. Quite the contrary! That is what happened with a Lamborghini Huracán: In the result of the absolutely professional application of complete wrapping type "Centurion Black Chrome", the bolide experiences a marvelous metamorphose, letting shine the Lambo in a really other light. Thereby, the advantages of complete car wrapping are obvious. That is on the one hand the protection effect, because the original paint is being protected optimally. In addition, the car can be transformed into its original state without any problems and at any time. On the other hand, the materialization of even the most eccentric color desires attract the mostly envious regards of gentle viewers like magic. Thanks to the most close links to different manufacturers, PRINT TECH has always its finger on the pulse of the time and is able to offer each shade of color also in mat version, fact appreciated by each one of the steady customers in Europe.
The complete wrapping is 7,500 Euro of worth!!!
 
The fact that the quality of the partial and complete wrappings made by PRINT TECH have got more perfectly during the last ten years is uncontested, likewise the fact that the new car color orientations are available for a fraction of the price for new or repainting of the car.
Source: Print Tech