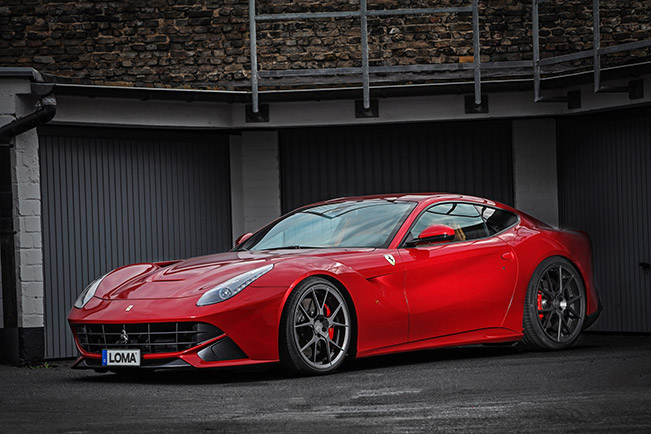 Forged wheels made by LOMA® – yet only to mention the name of this wheel forgery with roots in Baden-Wuerttemberg makes the hearts of upper-class-car-owners leap for joy. The furnisher of exclusive rims for car tuning under direction of Mario RADOSAVLJEVIC – meanwhile settled at Marbella in Spain, near Circuito Ascari – presents a wide range MOT certified car technology program and much more than 50 exquisite wheel designs, offering indeed something for everyone's taste.
It does not even surprise that in 2015 Ferrari F12 Berlinetta has climbed very high on the ranking of automobile masterpieces. At this place, we want to talk about a jeweler (Cologne Watch Center), who intended to subject his above named piece of art to a car tuning. In his "desperation" he went to LOMA®-Wheels, world widely known company for exquisite Ferrari tuning, where four masterpieces at once – true to the slogan: like with like – were fixed to the car in shape of a special kind of wheel-tire-combination: LOMA® Stream Superlight Concave in dimensions 9,5 x 21 in. on the front, dressed with ContiSportContact 5P in 255/30ZR21 and on the rear axle in 12 x 22 in. with 335/25ZR22. The F12 is "kept on course" best as possible by a Novitec chassis.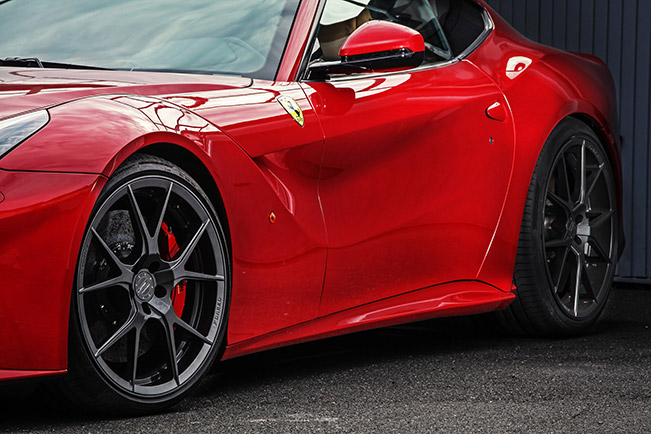 Of course, the High-End rim manufacturer LOMA®-Wheels uses the results of rim development and production for racing sports also in the area of road certified LOMA aluminum rims. Furthermore, it should be mentioned that the Spaniards-by-choice as – actually known – are the only European manufacturers for forged rims producing custom made deluxe rims. Already these two criteria assure LOMA® a special position on the global market.
By the way, for LOMA®, rim manufacturing is always inextricably linked with the corresponding MOT tire certificate, implicating driving safety to nearly 100 percent. Quite the contrary is in the USA, where no obligatory MOT certificate is necessary and in consequence, the cars are sometimes equipped with tires that do not match to the car at all.
Source: LOMA