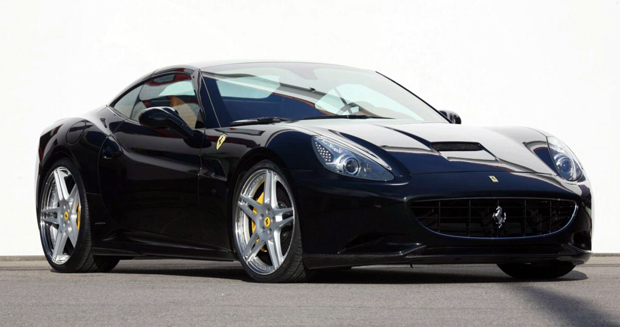 It's been a little over a year since Ferrari released the California. It was Maranello's first front-engined V8, bearing its first dual-clutch transmission, its first folding hard-top, and its first standard fitment of carbon-ceramic brakes. Unfortunately Ferrari found public reception to the convertible's styling rather cold, and although we found it looked much better drenched in soft Sicilian sunlight than it does it photos, not everyone's a fan.
Fortunately there's an elite cadre of Ferrari tuners eager to spruce up Maranello's finest – as well as their more controversial designs. Hamann's one, and they've taken their shot at the California already. So has Edo Competition. Now it's Novitec Rosso's turn.
The Dutch tuning garage has just released a full array of modifications for the 2+ cabrio, starting with a revised ECU for a modest 40 horsepower bump to 500 even. A sport suspension drops the ride height by 35 millimeters, but it can be raised up front by as much as 40 mm to clear curbs and speed bumps. Outside, Novitec's fitted a carbon fiber aero kit with front lip spoiler, side skirts, revised diffuser and a little rear wing, along with modular rims measuring 21 inches up front and 22 in the rear, shod with Pirelli rubber.
While opinions remain divided as to the sacriligiosity of tuning a Ferrari, in the California's case it could be – to some eyes anyway – just what the doctor ordered.