TURBO Ferrari California Prototype Sound!
Facebook: on.fb.me Twitter: twitter.com What a sighting! In a world's first, I show you the prototype of a Ferrari California that could mean the return to Ferrari after 25 years (last one was the F40) to the use of the turbocharger on their cars! Don't know if this still the V8 engine or something smaller, but it's certain that under the bonnet takes place a turbo (or even a twin turbo), just listen to the lovely noise and the whistle while driving on track! Marchettino Facebook page: www.facebook.com Marchettino Twitter page: twitter.com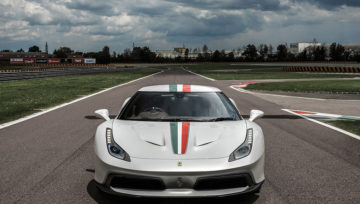 Ferrari 458 MM Speciale
Ferrari has unveiled its latest One-Off creation during the car's first shakedown on the Fiorano circuit in the hands of Ferrari's chief test driver Dario Benuzzi and the...

2017 Fiat 124 Spider...
Since the introduction of the Fiat 500 Abarth at the 2011 Los Angeles...