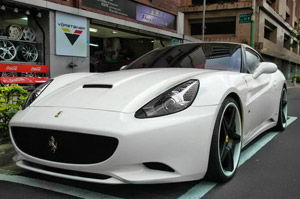 Vorsteiner has announced their tuning program for the astonishing Ferrari California. The name of the project is Vorsteiner V-309 Ferrari California and it comes with three-piece forged aluminum wheels.
The 5 split spoke face is done in black, while the lip is done in white.
The wheels are specially made to match the California, so the perfect vision of the stylish sports car won't be ruined.
Ferrari California is powered by a hi-revving 4.3 liter naturally aspirated V8 with 453HP (338 kW) at 7750RPM and 485Nm (358 lb-ft) at 500RPM. This is 107HP per liter of engine displacement.
0-100 km/h in 3.9 seconds and a top speed of 310 km/h (193 mph).